This Panther is changing how businesses and consumers communicate through software
November 4, 2020 at 4:51pm
Eric Azcona, an undergraduate information technology student at FIU's School of Computing and Information Sciences (SCIS), is proving that you can pursue your career and study at the same time.
Born and raised in the Dominican Republic, Azcona immigrated to the United States in 2006, dreaming of the opportunities available to him in technology. A passionate entrepreneur, he has been actively pursuing startups since 2003, when he founded his first company. The company focused on selling mobile phones and providing satellite internet access and long-distance phone calls to rural areas and those in need. It was acquired before he moved to the United States.
Creating that startup was essential for Azcona. "That experience set the grounds for my entrepreneurial career," he says.
On a trip in 2012 to New York City with his brother, Azcona began thinking about the opportunities that could arise through a technological platform allowing businesses and consumers to communicate more effectively. After his move to Florida, he spurred a product – through his own funding – that ultimately resulted in PointGenie, a software tool that uses machine learning to provide visitor analytics to business owners of all industries, including retail.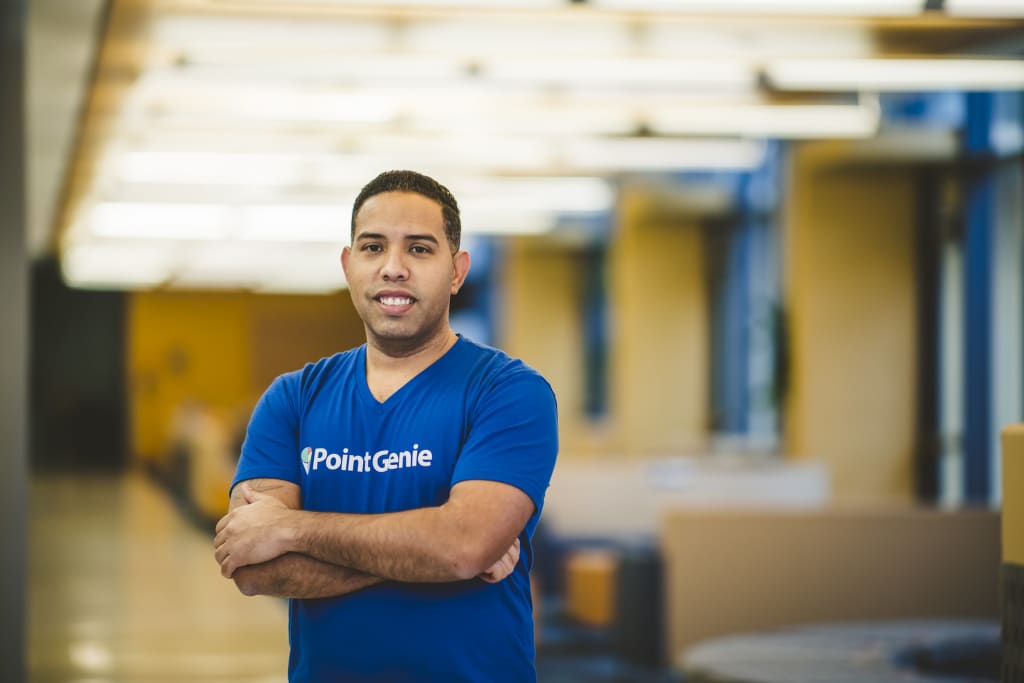 The software can be used by any electronic device and utilizes an artificial intelligence bot powered by machine learning to make sense of available data and generate a report for business owners. The data provides meaningful insights, including customer counts during the day as well as demographics (age group, gender, etc.).
The tool can be particularly useful to business owners during the COVID-19 pandemic. At a time when there are occupancy restriction requirements, the tool provides businesses with data on customer counts, helping management and owners create business opportunities during this difficult time while adhering to occupancy guidelines.
Azcona and his team are currently planning an expansion of PointGenie as a mobile application that can be downloaded by everyday consumers, giving them the ability to drive even more meaningful insights to business owners – and allowing customers to access important data.
Consumers will have the ability to report the status of physical locations in real time with symbols that indicate traffic-like customer patterns through green, yellow and red indicators. These reports can also be shared with friends to tag certain physical locations as having large or small crowds.
Azcona acts as the CEO of PointGenie. He also speaks with users about the software and spends time learning how he can create a better user experience. A group of advisors and various team members focus on the back-end development of mobile and other technology (such as Python, JavaScript and programming).
Azcona says his education at FIU is helping him as he continues developing PointGenie. He has already applied many lessons learned from his course experiences and LinkedIn learning courses (available to FIU students), and continues to do so.
For example, he's taking a human and computer interaction course this semester that is proving essential for his work. "This class is helping me with the user experience component of the application," he says.
When not focusing on his undergraduate degree and entrepreneurial career, Azcona enjoys spending time with his family and being a part of FIU's culture and diversity. His biggest advice to other students? Take the opportunity during their coursework and certifications to build on their experience and go after their dreams.
Azcona plans to graduate with his degree in information technology and a minor is social media and e-marketing analytics by 2022.
Proud of his Latino roots, Azcona has another project on his mind – with the goal of giving back. "I'm planning to create my own Angel Funding group to empower the Latino community."
Source: https://news.fiu.edu/2020/fiu-student-cofounded-startup-to-give-businesses-data-driven-insights